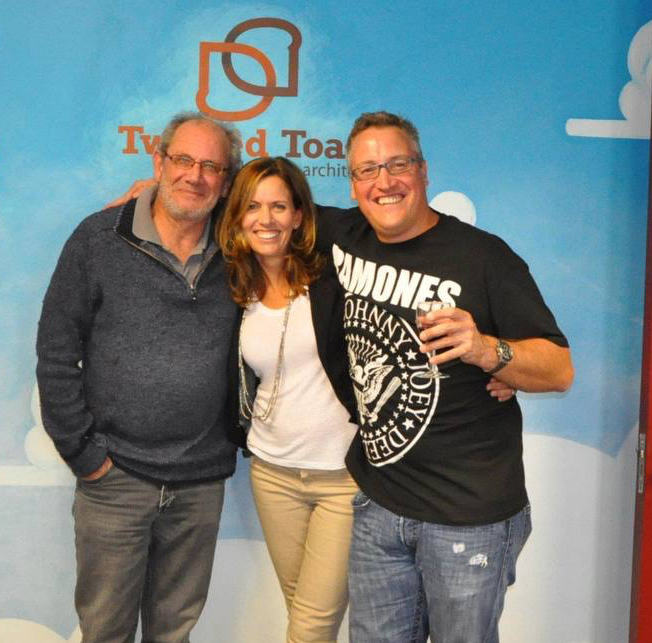 Twisted Toast is 12 years old, but my relationship with its founders goes back more than twice that long. Kim and Louis, two of the most interesting people I've ever met; joined at the hip, yet so different in character. Kim, the doting mother, wife, organiser, boss. 
Louis, the bachelor, strategist, paddler, raconteur, dreamer.
Here are some memories I hold dearest.
From taking a brief sitting on the floor in Kim's house two decades ago with a weeks-old baby gurgling happily nearby, to photos of that same baby at his 21st. From strategy weekends away, ostensibly for work, to birthday parties, Christmas get-togethers and gift-giving, (much more from their side than mine).
From picking up new clients to losing old ones, from going on stage at the Loeries and embarrassing myself – again, and again, to firing each other now and then. From the heady days of FHM, doing radio commercial spots every week, to receiving Loeries and other creative and publishing awards innumerable times. 
From shouting across the room "We've only won three, 'cos there's only been three!" from getting lost in the dark in the park, to discussing music with the heat team, from presenting ideas to seeing them bear fruit. Or not. From the days of Jon Olsen when he was still alive to my partnership with Sandy, who still is (alive that is), who I stole from Red Nail and got her fired for doing so. Ah, Sandy,  always the voice of reason between client and creative for all the years we worked together, and who became more of a friend to you than she ever was to me.  
From the good old days when the Loeries was just an awards ceremony, cell phones hadn't been invented, and sound engineers still edited by cutting tape and sellotaping it back together, of tipsy Friday afternoons at the Keg, from the frenetic excitement of watching a weekly magazine come to life under your calm guidance to (again) doing radio spots every week.
To punching above our weight, from getting to meet celebrities to making videos with FHM cover stars, from designing the FHM internationally revered 'boobs' MINI to hosting outrageous parties at The Castle in Cape Town and in jetliner hangars with Axe promoters and graffiti wall artists and rock stars. From FHM models arriving in fighter jets to Roxi saving drowning swimmers, from partying to getting married, from weddings (to divorces), we, or in the case of the last point mentioned, I, did it all.
Together, as an intrepid pair, you steered the Naspers Cerberus of Drum, Huisgenoot and You magazines inexorably forward – and then adopted heat, FHM and, for too short a time, Zoo Weekly/Weekliks.
But you became victims of our own success.
You did it your way. You rocked the establishment. And you were surely noticed for it. But not universally admired.
So 12 years ago, you started TT and I stayed attached, firstly, as a visitor to your new offices and then remotely when I moved to Cape Town. 
Over this time, we have worked on some amazing new marketing campaigns and projects together, dealt with success and failure and experienced the deaths of great friends such as Gordon Patterson and family, such as sons, moms and dads. 
We've also lived through a global pandemic, increased power shedding, ridiculous oil prices, and nowadays the promise of ChatGPT, hosting the world cup football, Jacob and Julius, looting, extreme weather, global warming and hell and high water – somehow, we manage to keep our heads above the stormy clouds.
Through it all, you have remained steadfast. You've rolled with the punches. You've never lost your sense of humour or your passion for life. If anything it's stronger than ever. You've always been there for the people lucky enough to have worked with you and you've never hesitated to lend a hand when needed.
I've seen you work tirelessly to get a project off the ground and I've seen you celebrate your successes. I've also seen you fail, and come out stronger for it.
You've always had the ability to stay ahead of the curve. You've always been early adopters when it comes to new technology and you've never been afraid to experiment. When social media first started, you were quick to jump on board. When mobile marketing became a thing, you were there already, willing and able to take advantage of it. You've always been prepared to try new things, even if it means taking risks.
And now, on the 12th anniversary of your baby, as our friend Bob would say — may you stay forever young.