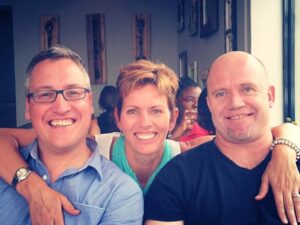 The founders of Twisted Toast: Digital Media Architects. Louis Eksteen (Managing Director), Kim Browne (Chief Executive Officer) and Erik Verster (Creative Director)
Twisted Toast: Hybrid Marketing Agency is South Africa's first fully-fledged brand content and real time marketing agency.
Brand communication is morphing into real time content marketing
During the last year marketing communication has experienced a fundamental shift, brought about by the changing use of digital platforms and through the social web and app internet. Coupled with the rapid introduction of always-on connected mobile devices such as smart phones and tablets, this means brand marketing communication is undergoing a structural change.
A current macro trend in marketing communication has become the increasing use of own, owned and earned media by brand owners directly, resulting in content-based real time marketing.
Does this trend mean the disintermediation of traditional external media for marketing communication? Yes, to an extent.
Without a doubt, brand content communication empowers brands to engage directly with target fans, on their own terms. Adding an important new marketing communication category to existing channels such as advertising, sponsorship, activation and publicity through public relations, brand content marketing adds a direct engagement dimension to brand communication. The smart media money in the United States have embraced this trend, hence the increasing practise by traditional publishers, such as Meredith and Hearst, to buy brand content agency hot shops to enhance their offerings to brand marketers.
In some instances brand owners are themselves morphing into a new breed of media owners. These early-adopter brand owners understand that, in a digitally connected society, brand communication fundamentally changes in favour of direct content marketing in real time. Excellent examples of how big multinational brands are increasingly seeing themselves as media owners are presented by Red Bull and Burberry.
At Twisted Toast we therefore believe all brands are content brands™.
Twisted Toast are brand content and real time marketing experts
Most brand owners are not media and content experts themselves. In the same way such marketers use advertising agencies to produce commercials, publicity agencies to assist them with public relations and activation agencies to create effective events, marketers can use Twisted Toast: Digital Media Architects to create brand content strategies and to execute these professionally, across a variety of media platforms.
Twisted Toast services
At Twisted Toast: Digital Media Architects we aim to produce custom-made brand content solutions for each client. To provide a departure point and direction to our thinking, we use our trademarked tool branded as the Twisted Toast Brand Content Continuum™ to appropriately match our agency services to brand client requirements.
Twisted Toast services include:
Strategy
Brand content strategy consulting
Brand content creation consulting
Execution
Real time brand content production
Social media integration and activation
Website design and development
Measurement
Calculation of brand content investment return (CIR™)
Real time continuous brand content and campaign result measurement

Social media analysis
Post-campaign diagnostics